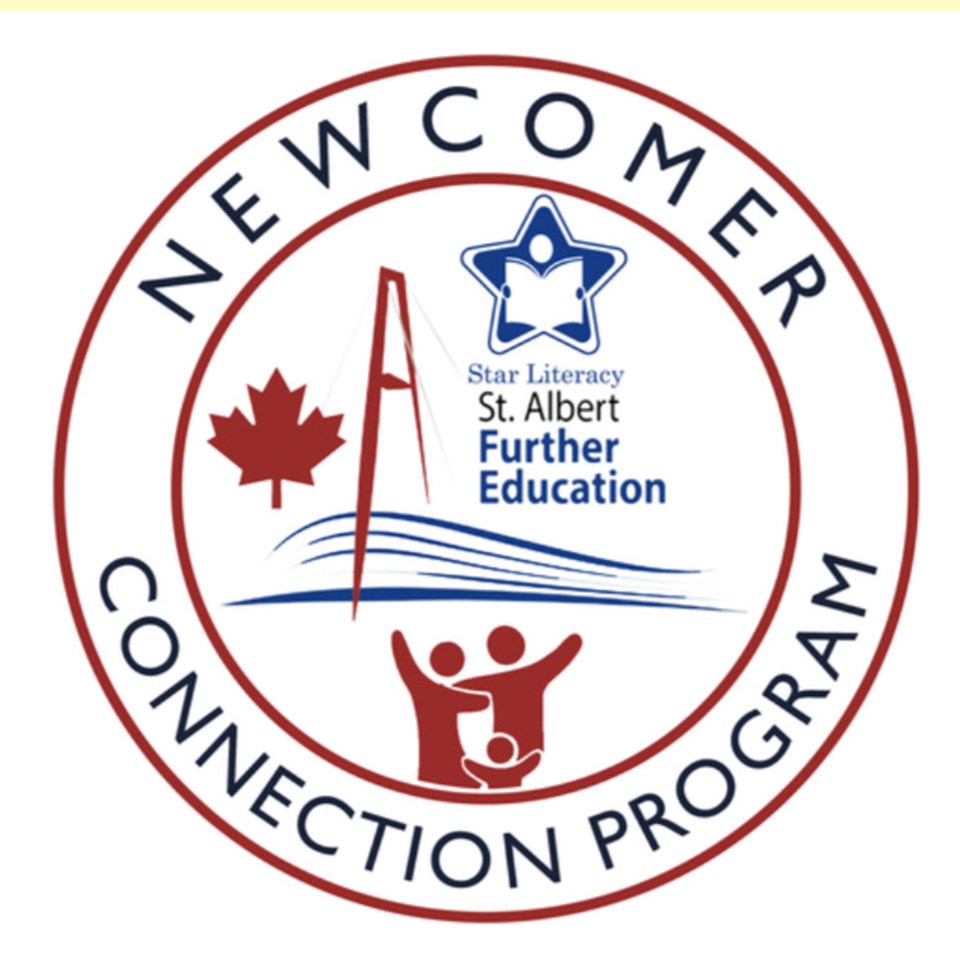 St. Albert & District Further Education is the Community Adult Learning Program (CALP) in St. Albert, one of over 90 in Alberta and offers continuing education for adults, free tutoring, exam proctoring, preparation classes for Citizenship, GED (High School equivalency) and Skilled Trades exams, and English language learning for newcomers. They operate a Newcomer Welcome and Connections Program. Last year they assisted 880 newcomers and this year they are on track to help over 1,000 immigrants, refugees, evacuees and Temporary Foreign workers.
Programs include General Interest Courses, which are their biggest annual fundraiser, and provide adults with lifelong learning activities, that enhances well-being; STAR Literacy for help with reading, writing, basic math, basic computer skills, personal tutoring, job skills and financial literacy skills; Family Literacy, which focuses on adults as literacy role models in their homes and provides fun and interactive ways for families to improve literacy, numeracy, and writing skills; and Newcomer Connection, which helps with settlement, English language learning, resume writing, interview skills, job and housing referrals, assessment of Canadian Language benchmark (CLB), interpretation, community connections and understanding cultural differences.
"We find that newcomers who do not have status to work or who are elderly, self-isolate and are lonely. So, we offer volunteer opportunities for them and run daytime activities in our mall locations and at the Senior Centre," says Cheryl Dumont, executive director who has been with the organization for 12 years. We provide references for our volunteers.
In addition to the programs, individual courses in art, fitness, health, crafts, business and more are available, as are events such as conversation circles, coffee & conversation; and read, rhyme & sing – baby & me.
"Our digital literacy (Word, Excel and PowerPoint) courses are among our most popular," says Dumont, "and that shows the digital divide in our community – some of our students come to us not knowing how to operate a mouse and others are more advanced. In addition to levels of MS courses, we have an iPhone course that is popular among seniors and a tutor that can help them outside of the course."
Dumont continues, "Our English language, Spanish, Cree, and French courses are also popular. We host Indigenous programming and help facilitate the museum's blanket exercise. We work with local employers and local business like Loseca, Transitions and Poundmaker's Lodge. We help those with diverse abilities and those recovering from addictions with job skills, financial skills, math and literacy skills. We start by building learner confidence and motivation; then we teach study habits and time management strategies – how does an adult find time for learning in their busy schedules! We regularly ask community members what courses they would like to see us deliver and work hard to remove barriers to learning for everyone."
While some courses have a small fee, there are plenty of free learning opportunities, thanks to fundraising activities, grants, assistance from local service clubs, volunteers, and funding from the province and City of St. Albert.
"Our fundraisers and our many volunteers help us deliver our programs," Dumont adds. "We have over 200 volunteers and are always looking for other volunteers to help us meet the needs of our clients."
STAR Literacy volunteers help their learners meet their individual learning goals, attain better jobs, access further educational opportunities, reduce feelings of isolation, and improve their ability to read prescription labels, medicine, bus schedules, safety manuals at work, etc. The program matches volunteers with learners for one-on-one weekly sessions. The program is flexible, and volunteers are asked to commit to 6 months to a year; however, many matches have a history of 3, 5, 7 years, and even 16 years. Resources, lesson plans, initial and ongoing training are available to tutors through the STAR Literacy program and our partner NorQuest College.
Another way for the community to engage is through a membership. This is open to agencies, businesses, or individuals that support St. Albert Further Education's mission. Members participate in the activities of the Association while receiving benefits such as advertising, access to training and networking opportunities.
St. Albert and District Further Education Association has been operating since 1974 and been recognized by the City for the Newcomer Program, by the Chamber of Commerce with a 2021 Community Stewardship Award, and by numerous students who credit the organization with improving their lives.
Dumont thanks the team, our dedicated Board of Directors, volunteers, and community. She gives a special thank you to staff members; Dana Wallace, administrative co-ordinator, for her hard work, loyalty, customer service, course calendar creation, promoting the organization on social media, managing our finances and generally keeping me on track etc., etc.; Muna Abdulhussain, newcomer connections coordinator for her part in making the Newcomer Connections Program the success story that it is today. She is hardworking, innovative, a problem solver and dedicated to newcomers. Our newcomer clients love Muna; Baser Khadim, newcomer language coordinator, who speaks 5 languages, loves to help newcomers, does the CLB assessments, writes resumes, assists with ELL training - creates learners profiles and runs small classes for English language learners from Afghanistan and Iraq among other activities.
A challenge for St. Albert Further Education is that they are one of the city's best kept secrets! It's time to spread the word so check out the organization and learn about the free and fee-based courses and programs that can improve your life or the life of someone you know. Their services are confidential and caring. If you are a foundational learner or a newcomer to Canada, there is plenty of support available. Hit "like" on Facebook, bookmark the event calendar, and tell your friends about the community organization promoting education in all forms for local adults and their families.
St. Albert Further Education operates out of its "Lifelong Learning Centre" facility at Unit 107, 80 McKenny Ave and its newcomer and family literacy programs are in the St. Albert Centre Mall (beside the Bay). Visit their website to learn more.
Help build a better St. Albert with a donation to St. Albert Further Education today.
Please follow us on Facebook, Twitter, Instagram, and LinkedIn.