Almost everything about camping in an RV is great…except for cleaning it. The dreaded chore can really put a damper on the fun. Spring cleaning before the season starts, prepping before your next trip, or cleaning up when you get home are all important and often unpleasant tasks.
Here are 10 tips that can help to take the hassle out of cleaning your RV:
Spring Cleaning
Make sure to have a clean start for your camping season. A deep clean each spring makes your entire summer of camping so much better.
Give the exterior of your RV a thorough cleaning and waxing. A pressure washer or garden hose with good nozzle along with some carwash cleaner should do the trick.
Don't forget to wash the awning, too. It is easy to forget about this important accessory because it is usually folded in when you are at home doing maintenance and cleaning on your RV.
Clean your RV's tank sensors to keep them working all season long. Use a cleaning wand to blast the gunk out of your black tank. You can also soak your black and grey water tanks by adding a cup of liquid dishwasher detergent to a tank that is ½ full of water and then driving around to agitate. There are also commercially available enzymatic tank cleaners that help to remove a dirty tank.
Keep your washing machine fresh by running an empty cycle with bleach followed by a cycle with vinegar before your first trip out.
Before You Head Out
Starting out each trip with a clean RV makes the entire trip much more enjoyable.
Clean all of the surfaces of the interior. Use a mild cleaning solution like a mixture of vinegar and water to wipe down every surface, wash walls, and to clean all the nooks and crannies.
Clean camping toys in the dishwasher with about a cup and a half of vinegar.
Make sure the sponges in your RV are free of bacteria by microwaving damp sponges for one to two minutes.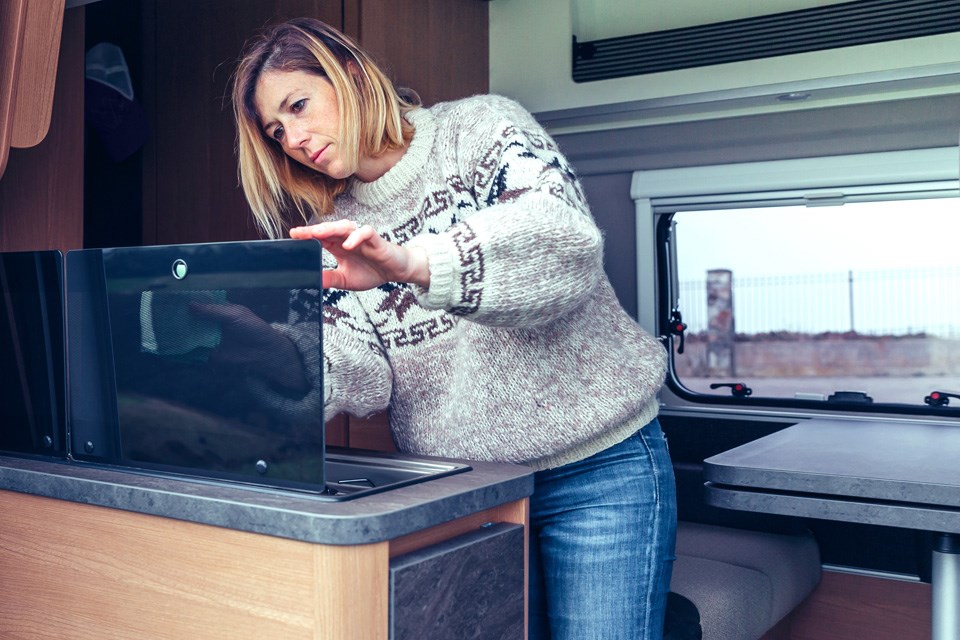 When You Return Home
Take a few minutes when you get home to do a quick tidy up so your next trip is that much easier.
Check everywhere for dirty laundry or stray dishes. Move cushions and open cupboards to make sure nothing gets left in the RV between trips.
A quick wet mop on the flooring cleans up all of the dirt that is bound to accumulate during a camping trip.
Clean the toilet with a gentle, natural cleaner so it doesn't break down the seals around the toilet and cause a leak.
Throw all bedding in your home laundry so it is ready to go when you are.
Keeping your RV clean doesn't have to be a huge chore. When everyone pitches in, it shouldn't take too long to get your rig back up to scratch.
This story is brought to you by Great West Media Content Studio. It is not written by and does not necessarily reflect the views of the editorial staff.