S'mores are a classic North American dessert that generations have enjoyed. The combination of melted chocolate, gooey marshmallows, and crunchy graham crackers is irresistible, and it's no surprise that this treat has become a favourite around campfires around the continent. Like most traditions, s'mores are something that most of us know and love, but few of us know their history. Not to worry, we've done the research for you. Here's what you need to know about the origin of the s'more and some creative ways to make your next one even more delicious.
Who Invented the S'more?
The origin of the s'more is a mystery, but it is widely believed that the first recipe for this delicious treat appeared in a Girl Scouts handbook in the 1920s. The recipe, "Some More," told campers to roast marshmallows over an open flame, place them on a piece of chocolate, and sandwich the whole thing between two graham crackers. The name "s'more" is said to have come from the phrase "give me some more," which is a pretty common phrase when s'mores are on the menu.
Today, s'mores are enjoyed worldwide, and even gourmet versions of this classic treat are available at high-end restaurants and bakeries. Before diving into the s'more's more creative or fancy versions, let's talk about the original recipe.
What is a S'more?
A s'more is a simple yet delicious treat made by roasting marshmallows over an open flame, sandwiching them between two graham crackers, and adding a piece of chocolate. The heat from the marshmallows melts the chocolate, creating a gooey and sweet treat that most folks know and love. Most often made over a campfire, s'mores are nostalgic camping trip treats for many.
Delicious Ways to Elevate Your S'more
While a classic s'more is delicious, there are many ways to take this treat to the next level. Here are some awesome ways to elevate your s'more:
Use different types of chocolate, such as dark chocolate, white chocolate, or milk chocolate with nuts or caramel.
Experiment with different types of graham crackers, such as cinnamon, chocolate, or honey.
Add toppings like sliced strawberries, bananas, or raspberries to give your s'more a fruity twist.
Drizzle your s'more with caramel, peanut butter, or chocolate sauce for an extra layer of decadence.
Swap out the graham crackers for chocolate chip cookies or Oreo cookies for a twist on the classic s'more.
Use flavoured marshmallows, such as strawberry, mint, or coconut, to add a new dimension of flavour to your s'more.
Make a s'mores dip by melting chocolate and marshmallows in a cast-iron skillet and using graham crackers to scoop up the gooey mixture.
Freeze your s'mores for a cool and refreshing treat on a hot summer day.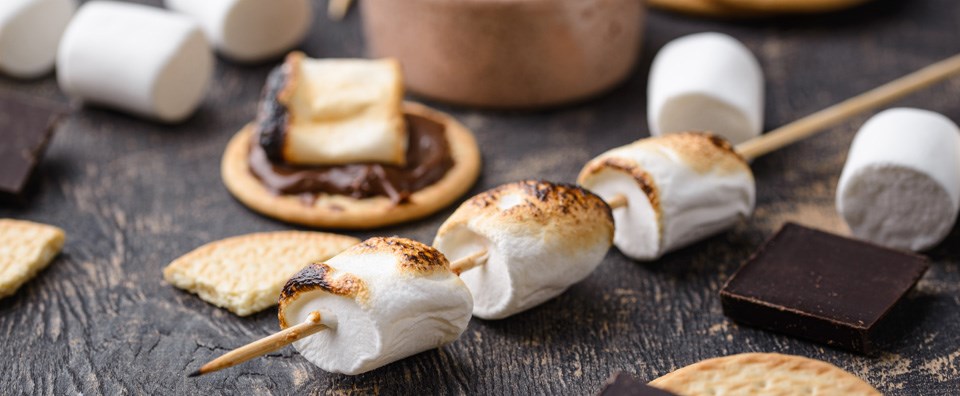 Our Favourite S'More Recipe
We'd never leave you hanging without a recipe for you to use. Eating on a Dime has an incredible "S'Mores Campfire Cones" recipe that everyone needs to try at least once. You're using an ice cream cone instead of graham crackers and melting the marshmallows and chocolate inside. Imagine a warm ice cream cone filled with gooey chocolate and marshmallow. Sounds pretty incredible, right?
This story is brought to you by Great West Media Content Studio. It is not written by and does not necessarily reflect the views of the editorial staff.