One of the most versatile pieces that should be in any RV is a cast iron skillet. Cast iron is the perfect pan material for camping because it can be used over an open fire, on the RV stovetop or even on a barbecue.
Cast iron cookware retains heat well, which makes it perfect for searing, slow cooking and everything in between. The more that cast iron is used, the more seasoned and non-stick they become. They are highly durable and last for generations.
Top Cast Iron Skillets
There are a large variety of cast iron skillets available. Depending on budget and intended use, keep in mind these top picks:
Top Pick for a Splurge:
Finex 12-inch cast iron skillet with lid
This unique skillet is octagonal and comes with a matching lid. The eight corners serve as pour spouts or venting holes if the lid is offset. It features steam collection rings in the underside of the lid which aid in even cooking. This skillet weighs a sturdy 13 pounds. The high-quality craftsmanship in Finex products extends to every detail of this excellent cast iron skillet.
Top Pick for Camping
Field 12-inch cast iron skillet
Field's cast iron skillet has a vintage look and feel. It weighs in at 8 pounds, which makes it perfect for the RV. It is sturdy and will be a great camping pan to pass down to the next generation.
Best Overall Cast Iron Skillet:
Lodge Logic pre-seasoned 12-inch cast iron skillet
The Lodge pre-seasoned cast iron skillet is a great pan overall. It weighs just under 8 pounds, which makes it great for home or RV use. Lodge is a brand that is well-known for its excellent heat distribution and retention. This pan comes pre-seasoned and ready to use.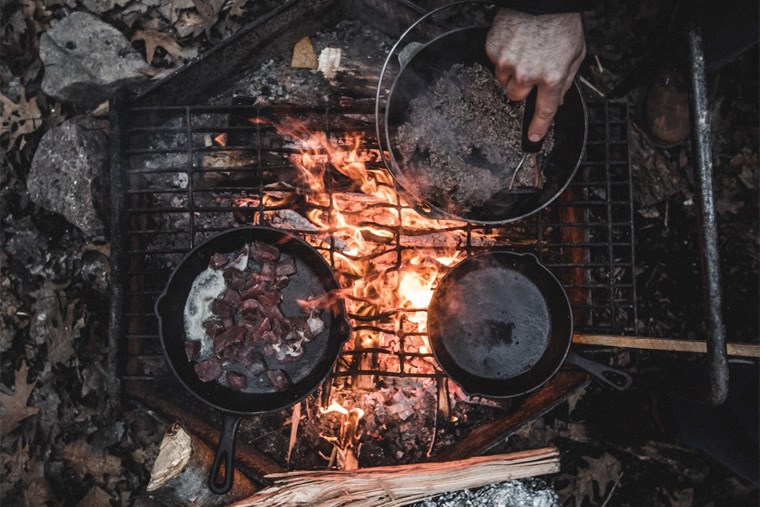 Skillet Cornbread Is Perfect for the RV
Cornbread cooked on a cast iron skillet is delicious. The dry ingredients can be premixed and stored in a reusable container, which makes it an easy camping treat.
Grandma M's Cornbread Recipe
1/3 cup butter
1 1/2 cups cornmeal
2 cup all-purpose flour
1/4 to 1/2 cup sugar (depending on tastes)
2 1/2 tablespoons baking powder
1 teaspoon ground nutmeg (optional)
2/3 cup evaporated milk
1 teaspoon salt
3 eggs, well beaten
1 1/3 cups water
Place butter in a 12" cast iron skillet and preheat the pan in a 425° oven (or over a hot fire).
In a large mixing bowl, combine cornmeal, flour, sugar, baking powder and nutmeg (if using). In a smaller bowl, stir together milk, salt, eggs and water. Pour the wet ingredients over the dry ingredients and stir until combined.
Carefully pour batter into preheated cast iron skillet and return to the oven.
Bake for 20 minutes or until golden brown and delicious.
This story is brought to you by Great West Media Content Studio. It is not written by and does not necessarily reflect the views of the editorial staff.