Weddings are very special events with a lot of "once in a lifetime" accessories. However, it is exactly this sentiment that winds up creating a lot of waste. Today's modern brides and grooms want affordable, unique weddings that are also eco-friendly. Woodland + Wildflower Weddings delivers all this – and more.
Woodland Wildflower Weddings provides curated, eco-friendly, all-in-one, three day camping wedding weekends in a natural boreal forest setting. In addition to the use of facilities at the venue, the package includes professional wedding planning services, décor and even florals.
Guests are offered rustic cabins, furnished tents or the opportunity to bring their own recreational vehicles for the weekend. A luxury vintage tent is available to start the honeymoon without the couple having to travel off site. A modern, log post and beam cabin complete with a sports lounge enable the wedding party to prepare in style.
"Eco-weddings are growing in popularity in other countries. We are excited to promote the concept here," says Laurie. "When you come to Woodland + Wildflower Weddings, you need to purchase very little, if anything, because we can provide it. Everything can be reused, even the florals!"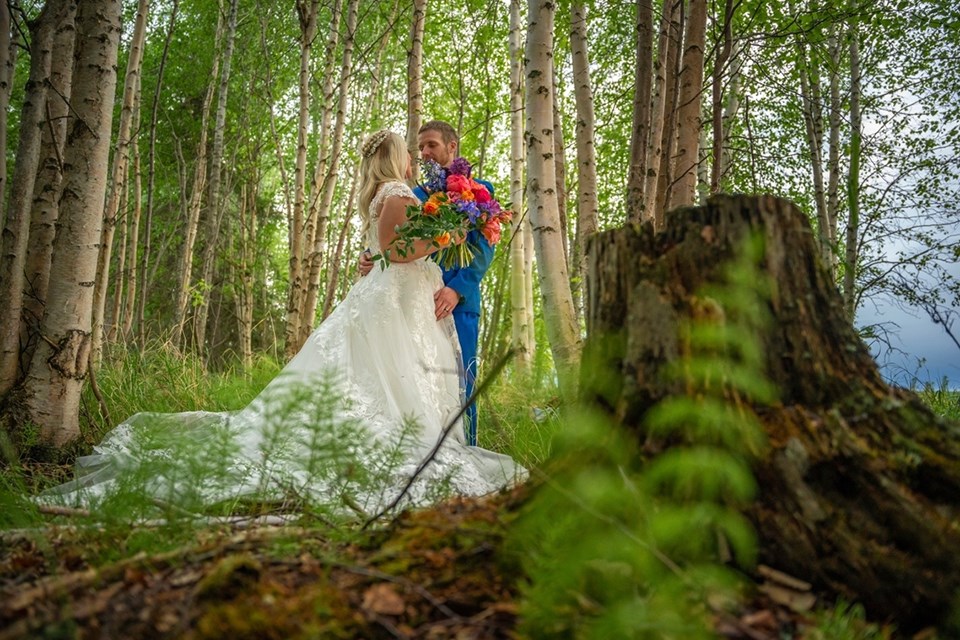 The venue itself strives to be as green as possible. The owners and their family continually add eco-features to the property.
The raw land was purchased in 2008. Laurie and her husband James worked with the land, not against it, to build their dream home in 2014. They did not clear trees or alter the land. Instead, they made use of the already cleared areas and incorporated the home and other features in natural ways.
In 2017 the idea for Woodlands + Wildflower Weddings was born. The idea was a wedding venue where couples could come for the weekend and enjoy a stress-free experience with family and friends in a private, natural setting. The mother-daughter team, Laurie and Jesse, set out to create a wedding business that was unlike any other. Style and elegance are not compromised in any way.
"We strive to create Instagram-worthy, on-trend weddings for our couples—celebrations that also keep guests' experience in the forefront. Just because a couple is choosing a 'camping wedding' in a forest does not mean it needs to be a plain or simple wedding by any means," says Laurie."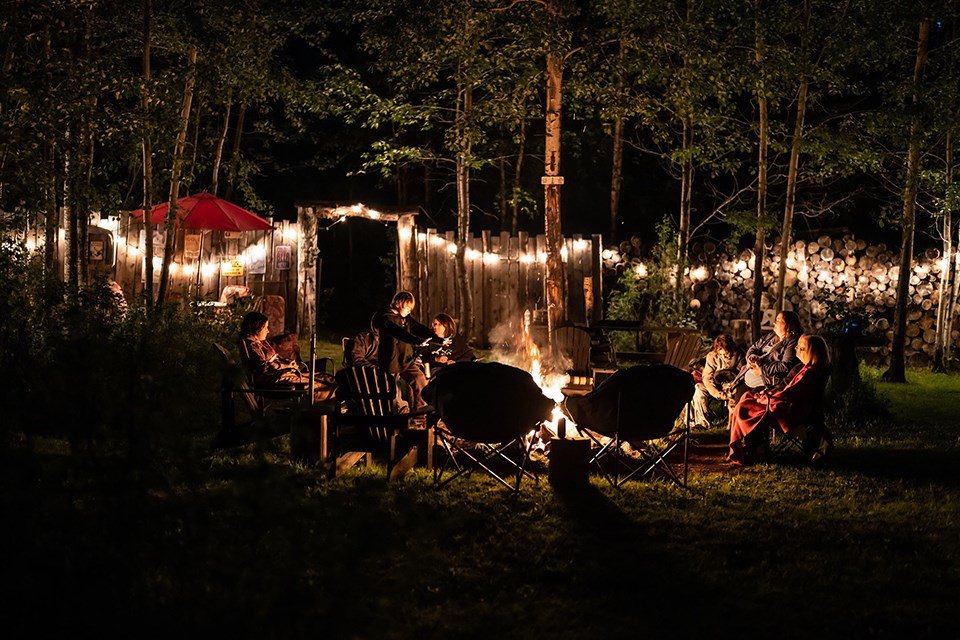 Jesse and Laurie endeavour to work with other earth-friendly local businesses in the area.
"Our most popular caterer, Back Forty Barbecue, is onboard with our minimal waste commitment. Since we don't want plastic discarded on the property, all the barware is plant based and biodegradable."
The "grown-not-flown" concept also applies to their professional floral services.
"What we do not grow in our own gardens, we purchase literally two minutes down the road at Common Cheer Flower Farm. In the instances where we need to source elsewhere, we utilize BC growers who practice sustainability," informs Laurie.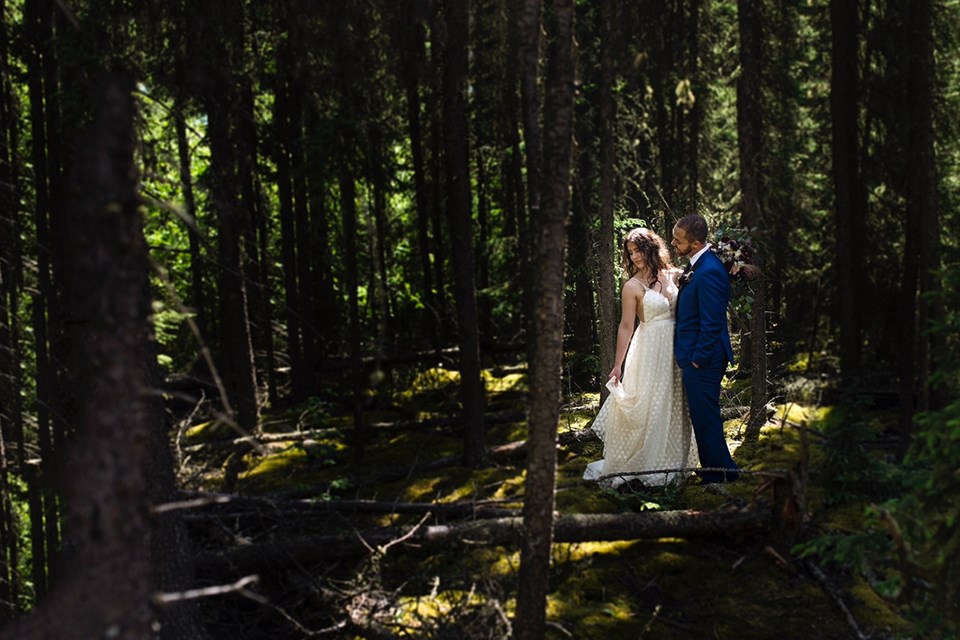 The wedding photos and videos captured against the natural boreal backdrop are absolutely stunning.
"We have several talented photographers on our list of approved vendors," explains Laurie.
Laurie and Jesse are just as passionate about affordable housing as they are about eco-friendly initiatives. Their business will be working (this coming summer) with CARE Housing Society on a charitable event, and has previously donated proceeds from a Christmas family photo sessions to NiGiNaN Housing Ventures.
Jesse and Laurie are grateful for the success of their business and have many people to thank.
"We want to thank our couples for trusting us with one of the most important days of their lives," says Laurie. "We are also very grateful to Community Futures Tawatinaw. This is a government initiated program that supports rural entrepreneurs and is a great resource for our small business."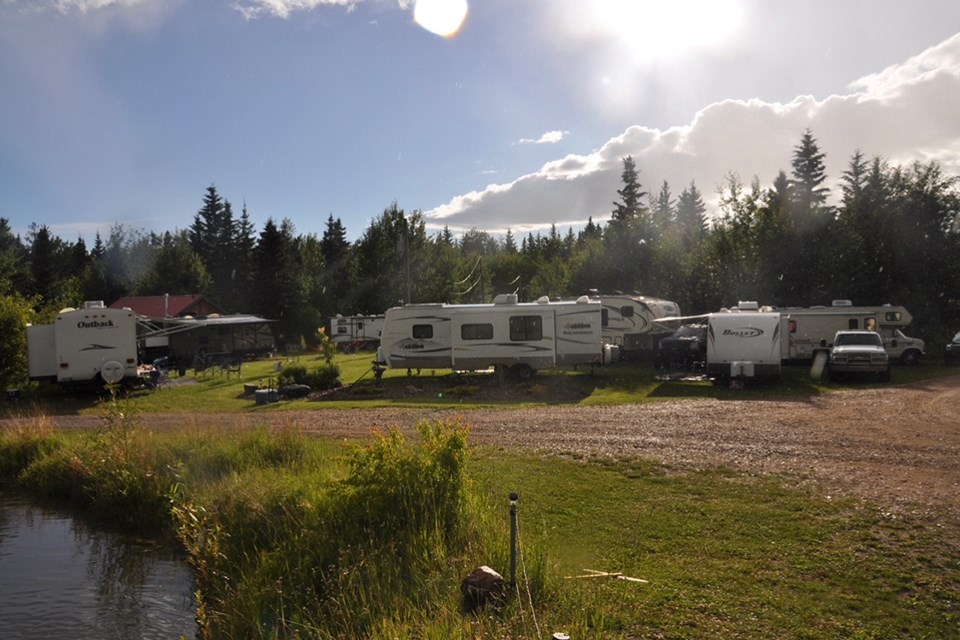 They have been consistently booking up two years in advance.
"We only host one wedding per week to ensure the couple is not rushed and that we can reset the facility for the next event," cautions Laurie. "We also keep our bookings to a maximum of 8- 10 weddings per season. Keeping the numbers down allows us to really focus on each of our couples individually, which in turn greatly improves everyone's experience. We put our heart and soul into each couple's wedding, and it shows. Our greatest joy is seeing their reactions to what we have created. The concept has been very successful and as referrals pour in, booking early is now a priority for interested couples."
Woodland + Wildflower Weddings is growing as more couples find the unique, affordable, eco-friendly venue they want for their celebration. Referrals are always appreciated. Future plans include adding ceremony-only package for the fall season and perhaps a second location.
Learn more about Woodland + Wildflower Weddings online, on Facebook and on Instagram.