T8N100MEN - 100 Men Who Care is the St. Albert chapter of a global movement. The men, who come from all walks of life and from a variety of professions, pledge to give $100 each, four times a year, to local charities. Currently, T8N100MEN is raising money and awareness for the St. Albert Food Bank.
"We try to support all the charities in St. Albert; the food bank is integrated with many other local support systems like victim services and housing associations" says John Liston, co-founder of the St. Albert chapter. "By supporting the food bank during this time of great need, T8N100MEN can have a measurable community impact."
Liston and Gerry Gunn started the St. Albert chapter out of a desire to give back, and help others give back to the community too.
"It is hard to accomplish big goals by oneself," Liston explains, "but a bunch of people doing a little can accomplish a lot."
T8N100MEN has raised more than $452,000 to date and are aiming to exceed $500,000 in community funding, as the current focus on the St. Albert Food Bank is to address a truly pressing need.
"We are seeing unprecedented numbers," confirms Suzan Krescy, St. Albert Food Bank's Executive Director. "We served 400 families last month – that is more than 1,200 individuals and more than 500 of those were children. Last month we handed out 67,000 pounds of food. Is there enough on the shelves to get through the winter? Honestly, it is hard to say. If the numbers and the need stay the same, the winter will be very challenging."
Krescy shares that they are accepting any and all food and cash donations at this time. "You name it, we will take it! But in particular, we need school snacks. Some parents do not want to send their children to school if they don't have snacks. We also are in need of infant formula and our supplies of all hygiene products, diapers and personal care items are very low." She pauses, then says, "It's pretty rough out there right now."
Statistics from Food Banks Canada show the extend of the nationwide crisis. In March 2022, food bank visits exceeded 1,400,000 across the nation – up 15% from 2021. While children represent 18.8% of Canada's population, they represent 33.1% of food bank users. Currently, seniors are starting to outpace the largest demographic of food bank users. The stigma that can be attached to food bank use is not reality. While some are on social assistance for a variety of reasons, one in seven food bank users are gainfully employed.
Donations make a difference. One tin of soup means someone gets a meal – they wouldn't be able to eat otherwise. Cash donations empower the food bank to buy in bulk. Volunteers help on all levels – collecting, sorting, building hampers, interacting with families, driving, administration, advocacy and more. No matter how much or how little you can give in food donations, cash or time, you will make an impact.
It is this impact that T8N100MEN are striving for with their St. Albert Food Bank fundraising campaign. They will match your donation up to a total of $31,400 until December 5th. With the food bank's support of individuals, families, children and other charitable community organizations, a big push now can get the food bank through the looming winter… and beyond.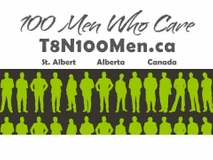 T8N 100 Men is a group of 100 Men who get together to learn about charitable needs in our community and donate money to those charities. We are proud Albertans in the St. Albert and surrounding area and are committed to helping our neighbours.