This special offer shows the dedication to helping you live your best life – hearing every moment. But that is just one of the many ways how HearingLife is your best option for hearing aids, assessments, and support. Let's dive in and learn more.
HearingLife Canada is a leading provider of comprehensive hearing care services and products. With over 300 clinics across the country, you can easily find a location near you, making it a convenient choice for those who prioritize both quality and accessibility.
Choosing a hearing aid is a significant decision that can greatly impact your daily life. It's not just about selecting a device; it's about finding a solution that's customized to your unique hearing needs. Here are some reasons why choosing HearingLife Canada over big box retailers or places that don't specialize in hearing aids can make a difference:
Certified Hearing Healthcare Professionals: At HearingLife Canada, our clinicians are licensed hearing care professionals. They are trained to understand the intricacies of hearing loss and provide customized solutions tailored to individual needs.
Greater Choice: We offer a wide range of hearing aids from leading manufacturers, including the latest Oticon Real™ technology. This ensures that you have the best options available to choose from.
Exceptional Warranty and Support: Our commitment to our customers extends beyond the purchase of hearing aids. We offer a 3-year full service warranty that includes free batteries and maintenance. Furthermore, we provide ongoing support even after you've gotten your hearing aid, ensuring that you are always taken care of.
Affordability: We understand that cost can be a barrier for many when it comes to purchasing hearing aids. That's why we help our clients navigate through various government grants and subsidies (as eligible).
Convenience: Whether you're traveling or on vacation, you can visit any HearingLife Canada location if you need help. Our widespread presence makes us a reliable choice for those who value convenience and accessibility.
The biggest draw, however, is the personalized, professional service that empowers each client's best hearing now, and far into the future.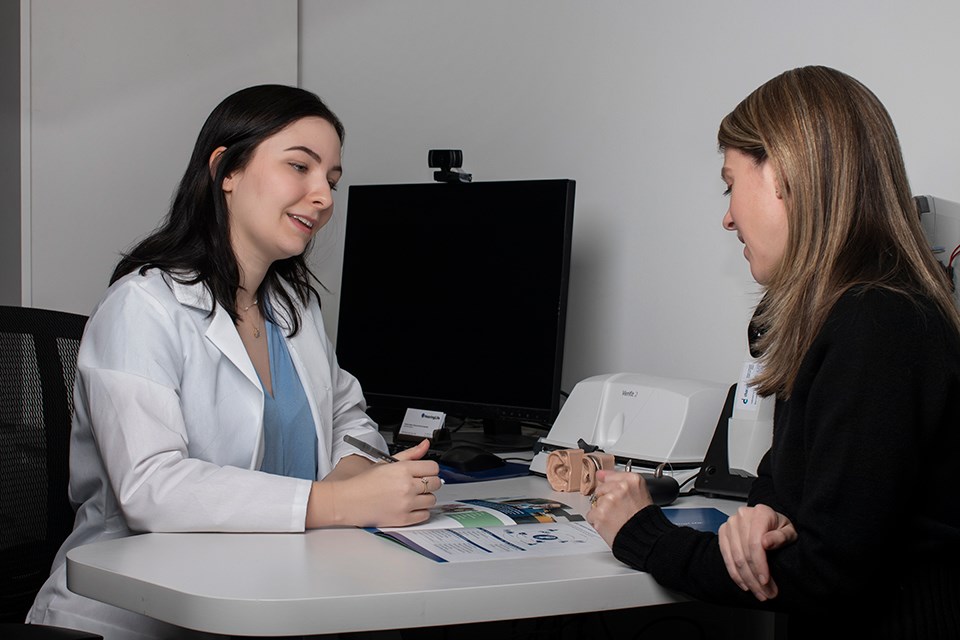 "The purchase of hearing aids is a big investment, both in terms of finances and your time," says Katie Koebel. "Purchasing the top-of-the-line, most sophisticated hearing aid technology does not guarantee you will get the most out of your hearing, because aids require specialized fine tuning by a professional in order for them to realize their full potential.
"This specialized fine tuning is accomplished by taking the time to listen to your unique hearing needs, conducting precise testing of your hearing and hearing aid abilities directly in your ears, and incorporating your feedback of their performance during follow-up consultations. Your hearing and hearing aid needs may change over the lifespan of your aids, and by maintaining a regular schedule of follow-ups we can ensure your hearing aids work as well in years 2, 3, 4 and beyond as they did the day you were first fit!"
It starts with a detailed case history.
"This helps us to establish what your unique hearing needs are, as well as what kinds of noise exposure or other hearing trauma you have experienced," says Katie Koebel. "Our hearing care professionals are well versed in hearing aid coverage programs that are available in each province, and if we believe there is one that may apply to you, we can help you with the application process. Hearing healthcare is not one-size-fits-all, and by listening to our clients and asking questions, our professionals can recommend the right solution for your hearing and financial needs."
The benefit of multiple locations is that HearingLife Canada can help with ongoing maintenance even if you move or are travelling.
Katie Koebel adds, "Over time, your hearing or hearing needs may change. By adopting a regular appointment schedule, as well as offering walk-in hours at each clinic for any issues that may arise, we ensure that your hearing aids continue to work optimally for you. Your hearing may change over time, and by continually testing your hearing we can account for those changes in your personalized hearing aid fitting.
"Further, hearing aids are sophisticated electronic devices that are worn daily and exposed to the elements like dirt, dust, and moisture that overtime can damage them. When an issue arises, our clinics are quick respond to your needs during our daily walk-in hour, or through our telesupport team that can be reached by phone or online chat. By offering proactive care and maintenance as well as being responsive if issues do arise, we ensure that your hearing aids continue to meet your hearing needs over their lifespan."
Quality Hearing Aids Within Reach
At HearingLife Canada, we believe that everyone deserves to hear better, which is why we are constantly striving to make quality hearing aids more affordable. With advancements in technology, high-quality hearing aids are becoming more accessible than ever before.
Be sure to get started by taking advantage of our special offer, where you save up to $2,000 on the latest hearing aid technology.
Schedule a free appointment at your local clinic today at 38 St. Thomas Street, or call 780-460-8045 to experience the difference that personalized hearing care can make.
You can learn more about our offerings and how we can help you on our website or on Facebook, X, LinkedIn and Instagram.