Volya Ukrainian Dance Ensemble of Edmonton and the Pavlychenko Folklorique Ensemble (PFE) from Saskatoon are proud to present their new and collaborative production Душа народу - The Spirit of a Nation to audiences in Alberta and Saskatchewan.
Taking place on Saturday, Sept. 9, 2023, in Edmonton at the Northern Alberta Jubilee Auditorium at 7 p.m. and Saturday, Sept. 16, 2023, at 7:30 p.m. in Saskatoon at TCU Place, this incredible co-production will tell powerful and moving stories through the beautiful art of Ukrainian dance.

A Canadian show with roots and artistry from Ukraine, Душа народу - The Spirit of a Nation is led by artistic directors Zhenia Bahri (Volya) and Serhij Koroliuk (PFE), who danced together in the Bukovyna State Ensemble, and immigrated to Canada within six months of each other before following similar paths with their respective ensembles. Both PFE and Volya have spent time together this summer preparing for this unique show.
"We hope to portray an immersive timeline from the foundation of Kyiv, to how Ukrainian culture took root in Canada, to what we understand Ukrainian traditions to be today," said Odessa Bahri, Volya Ensemble member and production co-chair. "In all humility, we also hope and expect your breath to be taken away with the vibrant colours, the masterful choreography, and the sheer artistic beauty of Ukrainian Dance."
Over 50 dancers will grace the stage by performing traditional and modern dances showcasing power, passion, and freedom. Volya will debut a new piece of choreography that has been six years in the making about Kyivan Rus', the foundation of the capital city of Kyiv. The audience will also witness "timeless dances from each ensemble" and dynamic joint ensemble dances specifically created for this show.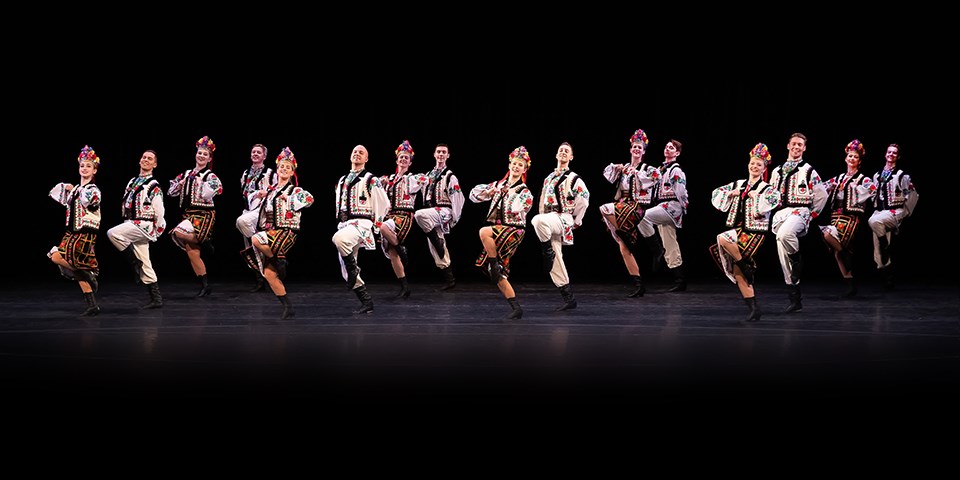 Volya Ukrainian Dance Ensemble recently appeared on the Grandstand Stage at the 50th Vegreville Pysanka Festival and were moved by the audiences' reactions to their performance.
With the continued war in Ukraine, Душа народу - The Spirit of a Nation is "a true celebration of what it means to be Ukrainian"
"We believe that, now, more than ever, is the time to remember the spirit of the Ukrainian nation, which is ultimately what has kept our culture alive and thriving for thousands of years," said Odessa Bahri. "We hope to share that unique Ukrainian spirit with all who attend."
Patrons attending Душа народу -The Spirit of a Nation will be a part of a memorable night paying tribute to the incredible Ukrainian connection so many in Canada have.
Volya has invited local organizations that assist Ukrainian newcomers and rebuilding efforts in Ukraine to set up displays in the lobby of the Jubilee to share information and take donations to support their invaluable efforts.
Join Volya Ukrainian Dance and Pavlychenko Folklorique Ensembles on their inspiring and authentic journey through Ukrainian-Canadian history and culture, and celebrate the spirit of Ukraine.
Tickets for the show can be purchased through Ticketmaster.