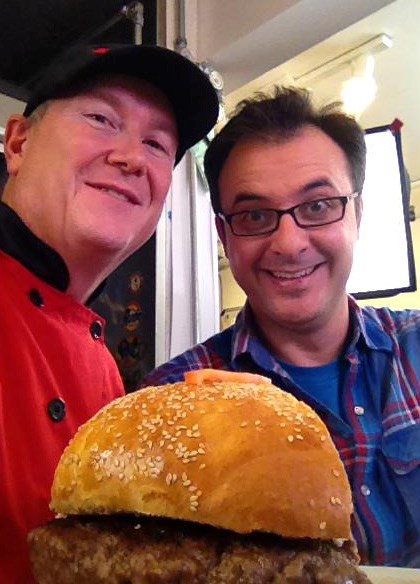 It's summer in Alberta and that means it's officially burger season. We can almost smell the BBQs firing up right now. If you love a good burger, you're definitely in the right province, and we've got a very hot tip for you.
Bernie & The Boys Bistro is a well-loved Drumheller restaurant that serves up 100% natural Alberta beef burgers and a huge selection of milkshakes for both locals and visitors to enjoy. Bernie & The Boys was even featured on the show "You Gotta Eat Here!" hosted by John Catucci.
We spoke to Bernie about his little bistro and he told us that the burger joint gets a whole lot of hype thanks to their "Mammoth Burger."
"It weighs over three pounds," he told us, "It's a huge thing!" Now, three pounds may not sound like a lot but when you lay eyes on this thing, you'll realize just how massive it is. The Mammoth Burger includes a 24oz patty, an eight-inch homemade bun, mayo, lettuce, tomato, and pickles. It will cost you $35 and you probably won't be hungry for the rest of the week.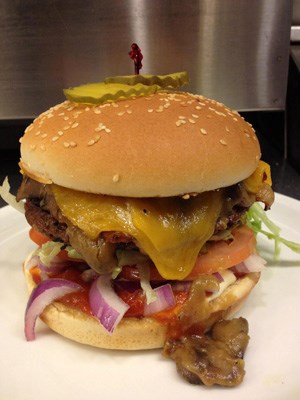 While this Drumheller restaurant has gained notoriety thanks to the Mammoth Burger, they've got a lot more to offer for people who are looking for a more manageable portion. There are a ton of burgers ranging up from $8.50 in price. Bernie also noted that people love their milkshakes, "we have over 80 flavours of milkshakes so there's pretty much something for everyone," he said. Some of the more unique flavours include gingerbread, lavender, pumpkin pie, and the list goes on.
If you're not feeling a burger, not to worry. Bernie & The Boys has a pretty huge (mammoth, one might say) menu that includes sandwiches, salads, chicken, wraps, subs, and more.
Bernie & The Boys has been going strong in Drumheller for nearly 22 years so naturally, we needed to hear a bit of the origin story.
Bernie and his wife were living in Edmonton at the time when they purchased the restaurant. Bernie's wife was still working in Edmonton and Bernie, a former teacher, had brought two of his students with him to open up the restaurant. "When people would ask my wife what her plans were for the weekend, she would always say 'I'm going to see Bernie and the boys,'" and that's how the name was born. Now, 22 years later and a ton of love from Drumheller and the province of Alberta, Bernie & The Boys are still dishing up Albertan comfort food for us to enjoy.
If you want to visit Bernie & The Boys, you can find them at 305 4th Street, West Drumheller.
Britanny Burr is a freelance writer and a contributor to Great West Media. This story was written for the 2022 Hot Summer Guide advertising feature. It is not written by and does not necessarily reflect the views of the editorial staff.