So, you're looking to discover something new? Alberta is packed with tiny, adorable towns with more charm than any Hallmark movie you'll ever see. From mountains to prairies, lakes to foothills, there's honestly something for everyone. If you've seen what the urban areas offer and are ready to escape the hustle and bustle, we've rounded up a list of little escapes that deserve your attention. Here are some of Alberta's loveliest small towns. Trust us. This is just the tip of the iceberg.
The Town of Waterton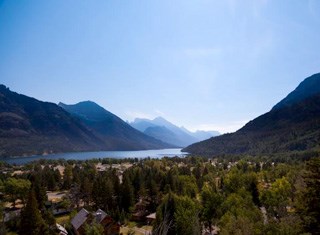 Waste no time in getting your butt to Waterton right now. If you haven't yet had the pleasure, you're in for a real treat. Located just 55 km outside Pincher Creek, Waterton attracts folks from around the globe. This place is bursting with beauty. From the rugged Rocky Mountains to countless sparkling glacial lakes, this place is nothing short of awe-inspiring. The most remarking thing about Waterton is that it has a population below 200 people but welcomes over 400,000 visitors yearly. With a massive campground and the iconic Prince of Wales Hotel, there are far too many beautiful spots to count. It's tiny, adorable, and exactly what you're looking for when planning your next small town getaway to get acquainted with nature.
Town of Bon Accord

Now this one is a total sleeper hit. Bon Accord is located about 40 km outside of Edmonton. It's a rural little town initially settled by the Scottish and still has some Scottish vibes to this day. While the town is very tiny, cute, and Hallmark-esque, it's also got something else going on that's really unique. Bon Accord is an International Dark Sky Community. This means they are dedicated to preserving the night sky by producing as little artificial light as possible. They were the first in Canada to earn this designation and, as a result, are a hot spot for stargazing and viewing the breathtaking northern lights. They are also very committed to their efforts in urban forestry, floral displays, and landscaping, so you don't have to save all your sightseeing for the nighttime. Bon Accord is unique and up to some newsworthy stuff regarding their environmental efforts.
Municipality of Jasper
Looking back to the mountains, Jasper is a must-see for countless reasons. Located in Jasper National Park, the largest national park in the Canadian Rockies, there is an endless wonder to discover here. The little town is charming, filled with friendly faces and great places to stop, eat, and drink, and surrounded by sprawling natural terrain. From turquoise lakes to roaring rivers, the SkyTram to the Athabasca Glacier, you will never be bored. Whether you're looking for a relaxing trip surrounded by natural beauty, or endless adventure in the backcountry, you'll find it in Jasper.
Town of Slave Lake

Slave Lake is in Northern Alberta and has a ton to offer people with a wide range of interests. Home to Lesser Slave Lake Provincial Park, this town is perfect for anyone who loves being by the water. You'll find a gorgeous lake, many hiking trails, and much more. The town itself is pretty small, but the natural surroundings will draw you in and keep you coming back. There is truly nothing like lake life, and Slave Lake has got it all. If you like boating, fishing, birdwatching, or just lounging in the sun with a good book, Slave Lake is where it's at.
Britanny Burr is a freelance writer and a contributor to Great West Media. This story was written for the 2022 Hot Summer Guide advertising feature. It is not written by and does not necessarily reflect the views of the editorial staff.