Okotoks was incorporated as a town in 1904 and much of its history and old town charm have been preserved. It also offers exceptional services and amenities for all ages that are second to none for a community of its size.
With almost 100 parks and more than 85 kilometres of trails for hiking and biking, Okotoks is a great place for outdoor enthusiasts. Throw in mild weather into late fall and 330 days of sunshine a year, and it just can't be beat.
Okotoks' downtown is a quaint, historic area that is not only bustling with shops, restaurants and services, but is also host to numerous festivals and events throughout the year. The Elizabeth/McRae Street corridor is home to an impressive range of businesses, including clothing, home décor and gift shops as well as restaurants, bakeries and coffee shops.
The three-block stretch of Elma Street between Northridge Drive and Clark Avenue hosts an eclectic mix of historic homes, professional businesses and unique shops. The quiet, tree-lined street is a world away from the busy Elizabeth/ McRae Street corridor one block to the south. It's the perfect place to spend an afternoon enjoying a coffee on a green patio, followed by a lazy stroll past century-old homes and shopping to your heart's content at clothing stores, galleries, antique shops and jewelry stores.
Whether it's going to a Dawgs baseball game at Seaman Stadium, taking part in one of the many festivals and special events held throughout the spring and summer or visiting one of the local galleries, there's much to do in Okotoks.
Check out these places on your visit to Okotoks:
• Saskatoon Farm – A crown jewel of agricultural tourism, Saskatoon Farm is one of the top destinations in the Foothills. Open year-round seven days a week, the farm features a farmers market, restaurant, bakery, boutique, garden centre and 60 acres of U-pick fields. saskatoonfarm.com
• Golfing – Golfers should bring their clubs as Okotoks is home to a trio of great courses: D'Arcy Ranch Golf Club, River's Edge Golf Club and Crystal Ridge Golf Course. D'Arcy Ranch is a challenging, but fair layout that rewards golfers with some of the most spectacular scenery in southern Alberta. Located on the east side of town, River's Edge features a signature island green named Waterworld as well as Death Valley, the affectionate term for holes 13,14,15 adjacent to the banks of the Sheep River. Crystal Ridge, which rests high above the Sheep River valley with panoramic views of the Rockies, is a nine-hole course that also offers a state-of-the-art miniature golf course.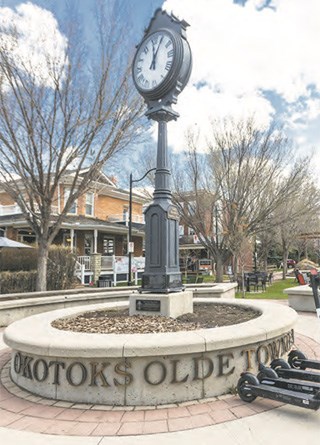 • Okotoks Museum and Archives – Devoted to preserving artifacts, archival resources and stories of Okotoks' past, the museum presents ongoing exhibits along with programs and events. Current exhibits include I Do – Love Stories of the Foothills and One Room Schools. https://okotoksculture.ca
• Okotoks Art Gallery – Located in the historic 1929 CPR Railway Station, the gallery includes two spaces for exhibitions, a gift shop featuring local and Canadian artisan items and also serves as the Visitor Information Centre for Okotoks.
https://okotoks.ca
This content was produced by Great West Media for Summer Explorer and Great West Media's 2022 Hot Summer Guide.