We're not about to let coastal Canadians have all the fun! While Alberta may not be known for its beaches, that doesn't mean they don't exist. There are a ton of gorgeous beaches scattered around the province, and we aren't about to let you miss out. We've compiled a list of some fantastic beaches in the province that you can't leave off your summer to-do list. Pack up your umbrella and sunblock because we've got some rays to catch!
Devonshire Beach
You'll find this beauty inside the Lesser Slave Lake Provincial Park. This place is stunning and unique because it's part of a sand moon complex, so the ecosystem is like no other. The sprawling, sandy beach stretches over 1.5 kilometres and is even home to a massive sand sculpture competition each year. There is a dog-friendly portion if you're bringing your pup, and there is a campground nearby. If you're looking for the perfect place to lounge the summer away, you've officially found it.
Kinosoo Beach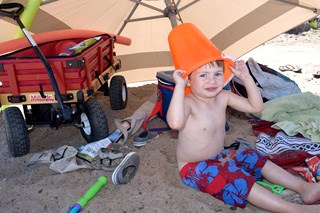 Now, let's head over to Cold Lake. Here you will find Kinosoo Beach. Spanning over three blocks, this sandy beach is the perfect place to enjoy a day with your family and friends. You'll find a beautiful sandy area, splash park, beach volleyball courts, playgrounds, food and beverage concession stand, and more. If you're more of the sporty type, there are paddle board and kayak rentals for you to check out. While the beach isn't huge, the potential for an unforgettable day sure is.
Long Island Lake Beach
You will find Long Island Lake in Westlock Country; trust us, you don't want to overlook this beauty. This beach is gorgeous, but you must think ahead if you want to experience it yourself. Day use is first come, first served, and there is a $10 charge per veiled. You can call ahead or book your spot online. Covered in golden sand and surrounded by lush greenery, you need to see this place yourself. If you're looking for a bit of a vacation, the campground is a stunner in its own right.

Kinbrook Island Provincial Park
Just a short distance from Brooks and Dinosaur Provincial Park, you'll find Kinbrook Island Provincial Park. The park is sprawling and, of course, home to a lovely lake. The lake is known for fishing, boating, and birding. But this is also the perfect place if you're more interested in catching some sun with a good book. This lake is huge, warm, and so very inviting. You can also camp here if you want to make a weekend of it, so plan accordingly.
Goldeye Lake
While this may not be the sandy beach you're picturing, it's a destination worth finding at least once this summer. Located near Nordegg, you'll find this enchanting campground with over 40 campsites. The entire place is surrounded by lush forest, and the lake is a sight to behold. The lake is stocked with fish and is perfect for canoeing, fishing, or swimming. There is also a beautiful loop trail you can walk around if you're not a fan of staying still.

Britanny Burr is a freelance writer and a contributor to Great West Media. This story was written for the 2022 Hot Summer Guide advertising feature. It is not written by and does not necessarily reflect the views of the editorial staff.