Keep your eye out for a windmill if you're on the hunt for amazing Alberta donuts. Yes, you read that correctly. Red Deer County is home to an iconic donut shop that happens to have a big old windmill resting right on top of the entrance. If you're a donut lover, you've likely already heard of The Donut Mill. If you haven't, you're seriously missing out.
The Donut Mill is a locally-owned and operated business that can be found on the West side of Gasoline Alley in Red Deer County, Alberta. While the exterior isn't easy to miss, the donuts will keep you coming back. They've got dozens of flavours and styles made fresh daily for you to enjoy. Can you think of anything better than a fresh, warm donut?
You'll find classics like Honey Dip and Cinnamon Sugar, but you'll also find special treats like Maple, Rolo, Chocolate Oreo, and – of course – the Donut Mill Special. Like the fan-favourite Boston Cream, the Donut Mill Special is their fresh yeast-raised donut filled with vanilla whipped cream, and the chocolate is swapped for maple fondant.
It's not hard to see why this place has been going strong since 1994. This place is pretty special, from the unique building to the lovely, welcoming staff. Guess what? It doesn't end there.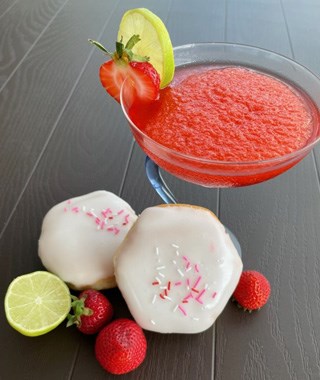 The Donut Mill serves more than just donuts. Love a comfort meal? You're in luck. The Mill serves a range of sandwiches, including Roast Beef, Ham, Turkey, Bacon, Egg Salad, Chicken Salad, Tuna Salad, Crab Salad, and Vegetarian on your choice of fresh, locally baked bread. You can also choose your cheese and fresh veggies that will go on top. Have a fresh bowl of homemade stew, soup, or chilli if you're looking for something to warm you from the inside out.
Other options include mini pizzas, sausage rolls, salad, and a range of other baked goods if you're silly enough to skip the donuts.
Now, back to the topic at hand: donuts. Each month The Mill drops a monthly donut special. August's was a Strawberry Daiquiri-inspired beauty that perfectly captured the essence of summer. July featured a Pina Colada, June was Cotton Candy, and May was S'more. Want to know what's next? You'll have to wait and see.
You know what to do if you love donuts and supporting local businesses.
Britanny Burr is a freelance writer and a contributor to Great West Media. This story was written for the 2022 Hot Summer Guide advertising feature. It is not written by and does not necessarily reflect the views of the editorial staff.