When it comes to Alberta, there are endless opportunities for exploration. From the mountains to the prairies, metropolitan cities to charming small towns, there's so much to be discovered. Among the list of things you need to experience in Alberta is a whole whack of absurd attractions that you won't believe exist in real life. So, if you're a fan of oddities and you're looking for an excuse to explore Alberta, we've got you covered. This list includes some mind-blogging landmarks that you simply need to see for yourself.
Just when you thought it couldn't get weirder, Alberta has a literal UFO Landing Pad. Located in St. Paul, this baby was the world's first UFO Landing Pad and its grand opening was way back in 1967. Right next to the tourist information centre, this town is ready to welcome all beings, human or otherwise, with open arms. In addition to the landing pad, you'll find a UFO exhibit with "actual photographs of UFOs, crop circles, and cattle mutilations."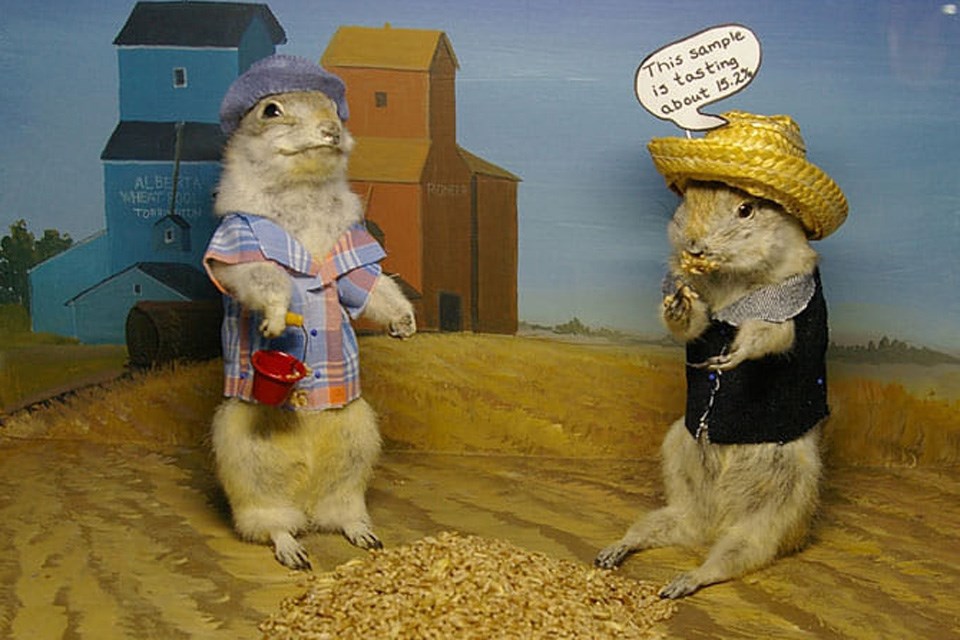 Located in Torrington, Alberta, this place is probably one of the most unique experiences you can have. This little museum is home to a whole bunch of dead, stuffed gophers that have been dressed up and arranged into little scenes. You really can't make this stuff up. As you walk through the museum, you'll find all sorts of scenes to feast your eyes on: a gopher couple in a poodle skirt and leather jacket, a bride and groom gopher, hockey gophers, and so much more. We're not saying it's not strange, but we are saying that you need to check it out.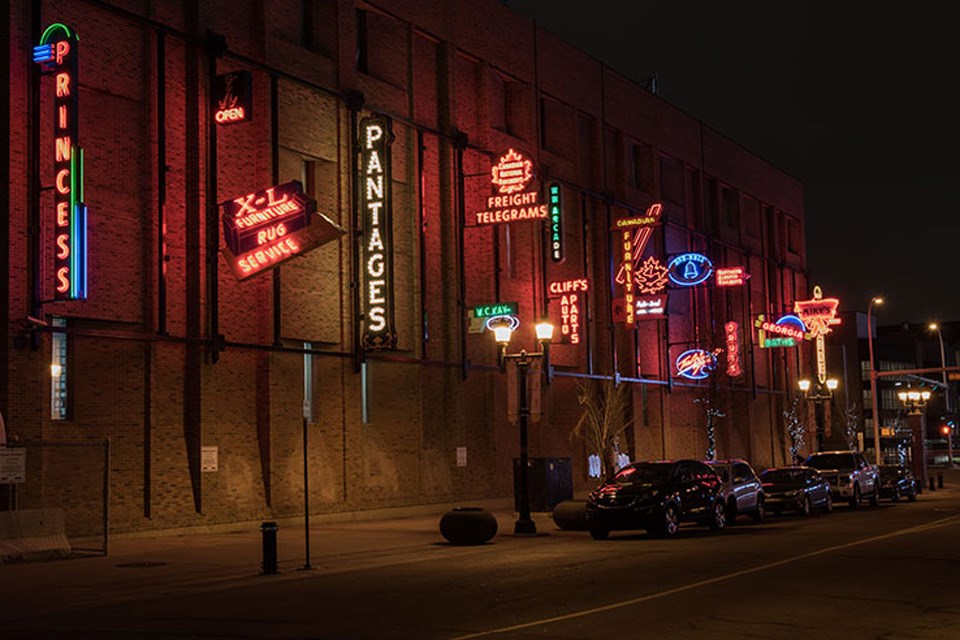 Now, this attraction is weird because it's super unique, but it's honestly so cool. The Neon Sign Museum isn't really a museum at all. It's a collection of vintage neon signs that are lit up along the east wall of the TELUS building and the south wall of the Mercer Warehouse building. So, it's outside and open 24/7. You'll find 20 historic neon signs from Edmonton's past that have been restored and collected together to build a bright and beautiful display. Also, it's the perfect photo-taking location!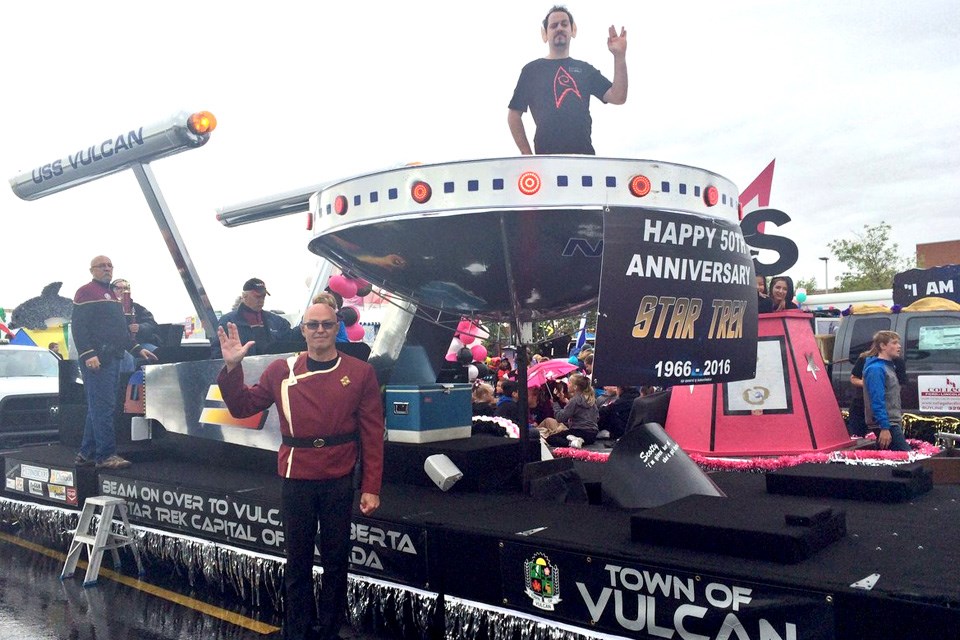 In case you weren't aware, the "Official Star Trek Capital of Canada" is located in Alberta and that place is – naturally – named Vulcan, Alberta. The town of Vulcan was founded back in 1913 and named after the Roman god of fire. By coincidence, the "homeward" of Spock in Star Trek was also named Vulcan. The town decided to double down on this happy accident and build a Star Trek-themed tourist center and a replica of the starship Enterprise. So, if you go visit the Vulcan tourist center, you're also visiting the Trek Station. If you've done a little research on this unique Alberta town, you'll find that many of the locals are quite committed to the bit. If you're a "Treky" yourself or you just want to step into sci-fi for a day, you should probably check out Vulcan.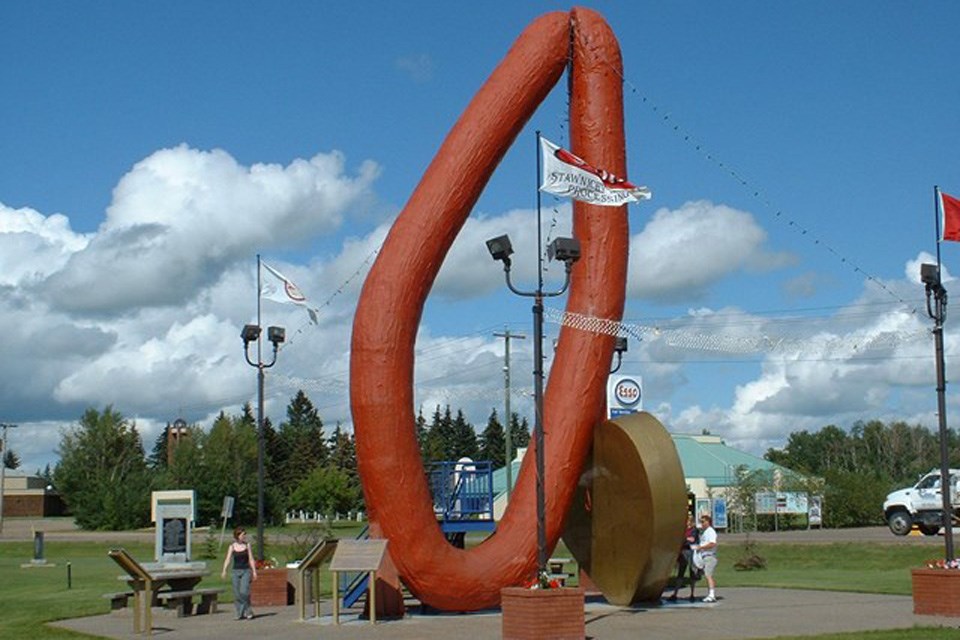 If you haven't laid eyes on the world's largest sausage, what on earth are you waiting for? You'll find this landmark in Mundare, Alberta and you absolutely will not miss it. Standing a whopping 42-feet tall, this giant, red sausage is a sight to behold. It's a Kielbassa sausage, in case you were wondering, and it was built in tribute to Stawnichy's Meat Processing which was started by the Stawnichy family in 1959. If you love a roadside attraction, you're going to love this.
The Little Church
While a little church may not sound all that exciting, wait until you hear just how tiny this place is. Drumheller is home to the "Little Church" which is nestled within the badlands just outside of town. This little beauty can only fit six people at a time and you might even have to crouch to get in. Once inside, you'll find six one-person pews and a pulpit. Just like a normal church, but mini. You might be surprised to hear that this place even gets booked for weddings. The surrounding area is gorgeous and the church is certainly unique, you might as well give it a visit.
Britanny Burr is a freelance writer and a contributor to Great West Media. This story was written for the 2022 Hot Summer Guide advertising feature. It is not written by and does not necessarily reflect the views of the editorial staff.