The weekend is coming in hot and we could not be more excited for another glorious May Long Weekend in Alberta. It can be tough to plan activities in the spring in our province because, as you know, the weather doesn't always cooperate. But, rather than planning nothing we've opted to plan a bunch of things for you to choose from.
We've got a list of unique and memorable Alberta activities for you to enjoy this weekend. Pick the one(s) that suit you best and buckle up!
YYCaesarfest
Did you know that the caesar (the drink, not the salad) was invented in Calgary? We know, we're pretty proud, too. Naturally, Calgary had to throw a festival to honour their local drink. The two-day sampling event takes part on May 19th and 20th at the Big Four Building at Stampede Park. You'll find over 40 caesars, local food, beer, merch, and so much more. Grab your tickets now.
Sip n' Ride Train Excursion
If you're located near Forestburg or Kelsey Alberta, you're in luck. This exciting train excursion will be departing from both of those two locations and taking passengers to the Detention Brewing Company in Rosalind, Alberta. This is a tiny little town with a population of 188, so we're willing to bet you haven't been there before. If you have, this is a great excuse to visit in style. The train excursion is from 1:30 - 4:30pm on Saturday, May 21 and your ticket price includes the round-trip train ride, a brewery tour, light lunch, and a free flight of beers. If you love beer and getting to know your province, this sounds like the ideal day. Grab your tickets now.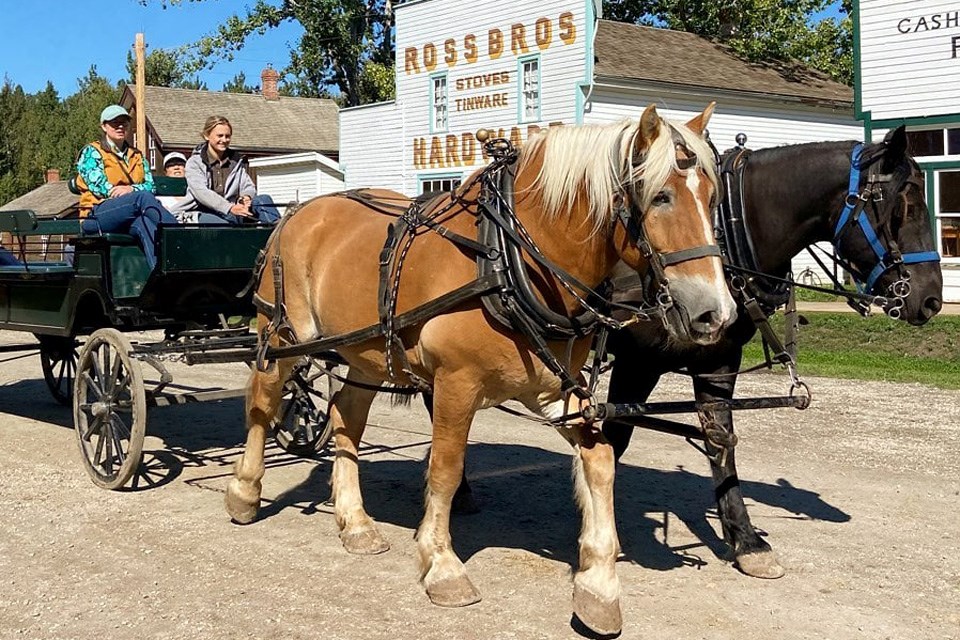 Opening Weekend at Fort Edmonton Park
We're so excited that Fort Edmonton Park is re-opening for the season and just in time for the long weekend. If you're unfamiliar, here's what you can expect: a huge ferris wheel, an outdoor maze, the "games alley," tons of carnival-style food, and so much more. This incredible heritage park features architecture from as far back as 1885 and the massive, sprawling park is basically Edmonton's living history. There is something for everyone here and you'll get to experience it for the first time of the season this weekend!
Horsethief Canyon
If you're looking to spend some time in nature this weekend, you should consider visiting Horsethief Canyon in the badlands of central Alberta. On the east bank of the Red Deer River, this stunning place will make you feel like you've landed in the desert. Filled with jaw-dropping rock formations, you can choose to take a short walk to the lookout or plan a day-hike around the area. There's tons to see and a million photos to be taken. You don't want to miss seeing this place for yourself!
Take A Ferry Ride
You might not know this, but Alberta is actually home to six ferries that are located around the province. They are located in Bleriot, Crowfoot, Finnegan, Klondyke, La Crete, and Shaftesbury. These ferries are located in unique and not often travelled areas of the province, so you're sure to see some parts of Alberta you haven't been able to see yet. Either add some of these ferries to your road trip itinerary or make the trip especially to ride one! For schedules and more information, click here.
Go Zip-Lining
What better way to see a place than zipping over it from above? Located in Hinton, Alberta, Alternative Adventures Zipline is opening for the season on the May long weekend and you do not want to miss out. There are tons of different types of flights you can do and there's even camping if you want to make a weekend out of it. Click here to learn more.
Britanny Burr is a freelance writer and a contributor to Great West Media. This story was written for the 2022 Hot Summer Guide advertising feature. It is not written by and does not necessarily reflect the views of the editorial staff.