Another long weekend has finally arrived! While you may be sad that summer is coming to a close, at least you can enjoy an extra day of relaxation. Or, in this case, an extra day of activities. There are many exciting things to do around our province this weekend, and we know you will have a blast. Here's a list of fun and different things to do around Alberta this weekend. Enjoy!
Canmore Highland Games
From September 3rd to 4th, the gorgeous mountain town of Canmore, Alberta, will be home to a massive, Celtic celebration. This event is filled to the brim with things to do. You can enjoy the Taste of the Highlands experience, where you can sample an array of whisky, beer, and wine. There will also be a highland dance competition, Heavy Sports, and a drumming & Piping competition. Seriously, there is so much happening. Expect a lot of fun and bagpipes.
Calgary Pride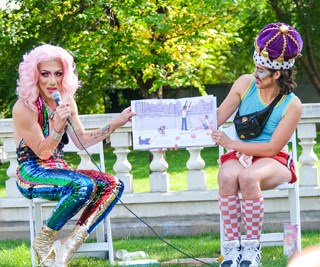 Calgary Pride is back! The full week of programming began on August 26th and runs until September 4th. There are multiple events every single day. From drag shows and parties to flea markets and comedy shows, you'll want to plan your week out carefully to pack in as much as possible. The parade will begin at 11 am on Sunday, September 4th. It will start on 9th Avenue and 5th Street South West. Right after the parade, the festival will move to Fort Calgary for a whole bunch of outstanding performances, food trucks, activities, vendors, a beer garden, and so much more.
Timeless Vintage Market
Edmonton's Timeless Vintage Market is back, and this one will be big. On September 3rd, this massive market will take over The Old Strathcona Performing Arts Centre. Many vintage vendors will sell apparel, accessories, and so much more. There's no better place to shop for your fall wardrobe than this incredible hotspot. If you love to support local, sustainable fashion and – you know – looking cool, you should probably swing by.
Harvest Festival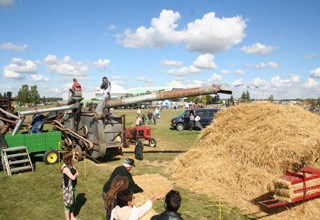 The Harvest Festival will be taking place in Reynolds at the Reynolds Museum. If you're interested in farming, you'll be in heaven here. You can watch as they harvest wheat using both steam and gas-powered equipment. You can also watch threshing, swathing, combining, ploughing, stooking, and much more. If you don't know what most of those words mean, you're about to learn! If you're not as enthusiastic about farming, not to worry. There will be carnival games, a petting see, live music, and more. Who knows, you might fall in love with farming (if you haven't already).
Get Lost In a Dino-Themed Corn Maze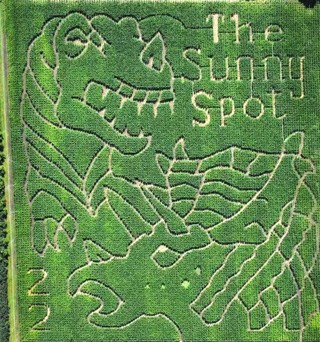 Did you know there's a massive corn maze in the shape of a dinosaur in the Drumheller Valley? It's open from 10 am to 8 pm in September and October, and it's only $8 per person. This maze spans over five acres and makes for a super fun afternoon. Checkpoints are scattered throughout for you to find, so get ready for a challenge. If you haven't visited The Sunny Spot and got lost in this wild maze yet, you're missing out.
Battle Creek Showdown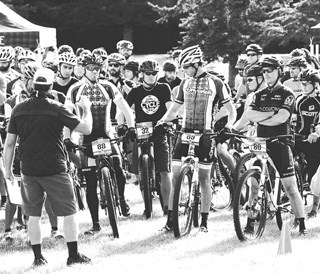 The Battle Creek Showdown Mountain Bike Race and Festival is coming up! Get ready for an epic weekend of mountain bike racing, live music and great food in Elkwater, Cypress Hills Interprovincial Park on August 27th. While race registration is all full, there is fun to be had for everyone. This event is high-energy, full of action, and fun for the whole family. You're sure to have a blast even if you're not into mountain biking.

Visit Waterton Lakes National Park
In case you haven't noticed, this summer has been scorching hot. If you're looking for the perfect place to cool down, Waterton is surrounded by stunning lakes to plunge into. Whether you're in the mood for a hike, a cute day in a tiny mountain town, or just a day by the water with a good book, Waterton is your spot. Finding a place to stay right in Waterton can be tricky as the campground and hotels book up quickly, but you can consider a day trip or booking a place in Pincher Creek. Trust us. You need to see this place for yourself.
Pick Your Own Bouquet
Birchwood Meadows Flower Farm is located in Sturgeon County, and it is truly what dreams are made of. You can book an appointment to visit the beautiful flower farm and pick over 35 varieties of flowers and greens. You can also explore the greenhouse and shop, where you'll find fresh, seasonal decor and fun DIY kits. Be sure to book your visit ahead of time and prepare for an enchanting day surrounded by beautiful blooms.
Britanny Burr is a freelance writer and a contributor to Great West Media. This story was written for the 2022 Hot Summer Guide advertising feature. It is not written by and does not necessarily reflect the views of the editorial staff.