Happy long weekend, Alberta! We love a long weekend, and it doesn't get much better than a long weekend that lands right in the middle of summer. While we've known a few rainy August long weekends in the past, we've got a good feeling about this one. Weather aside, this weekend simply can't be a flop because of all the wild events unfolding around the province. There's something for everyone, from music and food to rodeos and culture. Get out that calendar and make sure your pen is full of ink. We've got a lot of ground to cover this coming weekend.
Calgary Bluesfest

The Calgary International Bluesfest runs from July 25 to 31 throughout the city. The week starts with events all over town and finishes with non-stop music at Shaw Millennium Park from the 28th to the 31st. During the MainStage events, you can enjoy amazing musical acts followed by a dance party each night. There will also be a vibrant art market, a whole whack of local food trucks, and cold beverages from the Last best Brewery & Distillery. The events at the start of the week occur at various locations, including the King Eddy Rooftop, the Memorial Park Library, and other notable venues. Several of the week's events are free, so prepare to do it all.
Canmore Folk Fest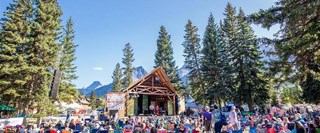 It's back! The Canmore Folk Music Festival has been a summer staple for Albertans since 1978. Taking place in the heart of the Rocky Mountains, the festival runs from July 30 to August 1 this year, and there is so much fun to be had. Kicking off with a free concert on Friday night, you can prepare yourself for unforgettable music, fantastic food and artisan vendors, and incredible vibes. There are multiple stages on the grounds and even a separate pub stage just a few blocks away. If you want to witness the musical stylings of Jim Cuddy, Bedouin Soundclash, Angelique Francis, and many more hard-hitting performers, you should probably grab your tickets now.
Edmonton Heritage Festival
The Edmonton Heritage Festival will take place from July 30 to August 1 in Hawrelak Park. This festival is a giant celebration of Canada's multiculturalism in the form of tastes, smells, sights, and sounds. Sixty countries and cultures are being celebrated at this jam-packed event, and you can find free entertainment on more than 25 stages around the park. You can shop the food and goods from 50 different pavilions and bask in the rich, diverse place we call home.
Vermillion Fair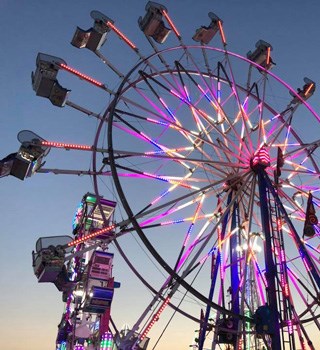 It's not a long weekend in Alberta if we don't get a little bit country. The Vermillion Fair is gearing up for its 116th year from July 28 to July 30. Known as Western Canada's Largest and Oldest Traditional Agricultural Fair, it's certainly something worth experiencing for yourself. The giant fair includes a parade, a trade show, races, entertainment, food, rides, and so much more. These three days are stuffed with things to do, and you don't want to miss out. From riding the Farris wheel to watching the competitions, you don't go a moment without being entertained.
Calgary Fringe Festival
We're heading back to Calgary for the Fringe Festival from July 29 to August 6. This annual theatre festival brings together emerging and established artists to tell their stories on stage. You won't believe just how many performances are packed into the festival. Taking place at various venues around the city, you're welcome to scoop up tickets to any show that strikes your fancy. The Festival Hall is located at 1215 10th Ave. S.E., but that is just one of the venues that will be graced with performances during the event. No tickets are over 20$, and these shows are going to be incredible.
Britanny Burr is a freelance writer and a contributor to Great West Media. This story was written for the 2022 Hot Summer Guide advertising feature. It is not written by and does not necessarily reflect the views of the editorial staff.