One of the best parts of travel is capturing our memories in fantastic photos we can share with friends and look back on for decades to come. Over the past few seasons, travel has come with its challenges but when we look more locally, everything's easier. Luckily for Albertans, the Canadian Rockies are home to many world-class gems we can enjoy, even on a last-minute whim. At Abraham Lake, beautiful methane bubbles that are trapped beneath the water's frozen surface are attracting visitors in the winter, while remaining an affordable attraction that has yet to be taken over by tourists. With the breathtaking view of the mountains in the background, this spot is especially calling to those passionate about photography as well as avid Instagram users seeking creative content.
Nature's miraculous creations
The natural phenomenon that are the ice bubbles are one of nature's miracles. As dead organic matter within the lake's water sinks to the bottom and is decomposed by bacteria, methane gas is emitted that bubbles in response to the freezing water and floats back up to the top. Each is unique and shimmers below the ice's surface, waiting to be discovered by visitors and their cameras.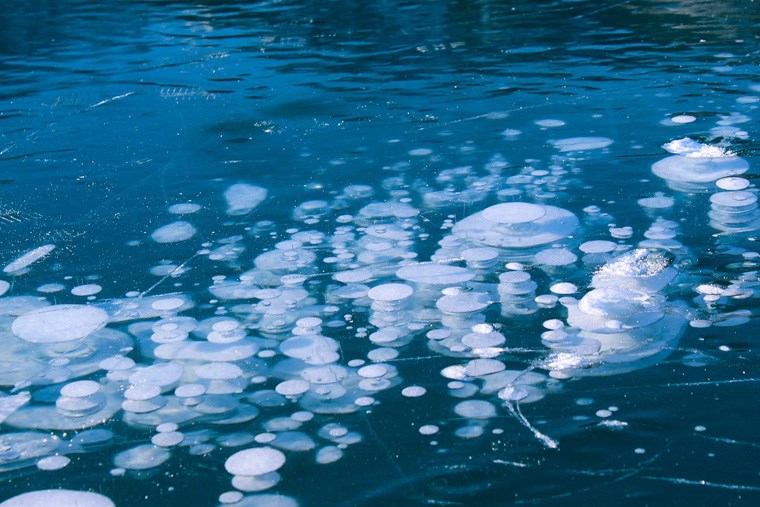 A fun winter activity
Getting the most from an Instagramable ice bubble adventure is about catching it at the right time. Once the ice is at least one inch in thickness, the bubbles will have had ample time to build up. Where deep cracks have formed in the ice, visitors can revel in optically illuminating shatter like effects. Wherever people decide to hunt for ice bubbles on Abraham Lake, which covers nearly 100 square kilometres, it's important to stick to areas where it's visibly apparent the ice is thick enough, at least 10 inches in depth. Avoid the areas between the dam and the lake's Windy Point area as well as any creek or river entry point, and stick the areas closer to the shore, where bubbles tend to occur more densely.
Make it an over-nighter
Abraham Lake is located fairly centrally for those coming from either Edmonton or Calgary and is a nice three-and-a half hours' drive from each. It's located outside the National Parks, so no park pass purchase necessary, and the closest town is beautiful Nordegg. Those looking for a wilderness adventure vibe have great options to stay in the Nordegg area. Within 30 minutes from Abraham Lake are the HI Nordegg Shunda Creek Hostel and Expanse Cottages. A little further out, is stunning Lake Louise. It's about an hour-and-a-half's drive away but offers more amenities. For an affordable stay, check out Deer Lodge or Mountaineer Lodge. A more private resort experience awaits at Baker Creek Mountain Resort and for the ultimate in luxury, the Fairmont Chateau Lake Louise is sure to impress.
Natalie Noble is a freelance writer and a contributor to Great West Media. This story was written for the Cool Winter Guide advertising feature. It is not written by and does not necessarily reflect the views of the editorial staff.